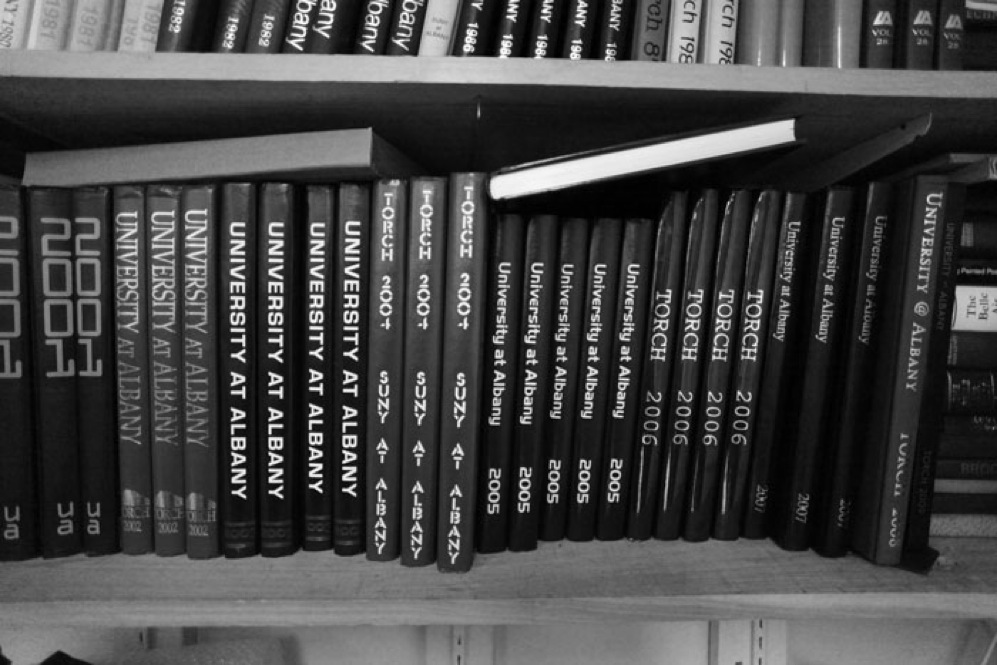 "Our aim: a book indicative of this campus and its students… editors turn grey as they push their staff toward the final goal… the staff works steadily in an attempt (sometimes vain) to meet our deadlines… copy and more copy… layout after layout… crop, crop, crop… tempers flare as the time grows short… will we make it?… but finally, a year of college life recorded and preserved for posterity… the Torch staff sits back and waits for the reaction to come."

-Introduction to the 1963 Torch Yearbook
Yearbooks at the University at Albany have a history dating back as early as 1904. They transitioned into a Student Association-funded group in 1957, and in 1963 the first 'Torch' title was produced. During the Vietnam-war era years, the Torch reflected the unfiltered student perspective as anti-war statements with controversial images within its pages and documentation of student-led protests and campus shutdowns. Torch Yearbook served as custodians of the visual history on campus and is unmatched in any other form at UAlbany. The student-run photography branch of Torch, University Photo Service, still exists today in the same home at Campus Center 305 with the same studio and darkroom.
In 2020, students were prepared to print the first Torch Yearbook in six years when COVID-19 shut the campus down. The following year, the yearbook was finally printed again.